Nepenthes attenboroughii and Jeremiah Harris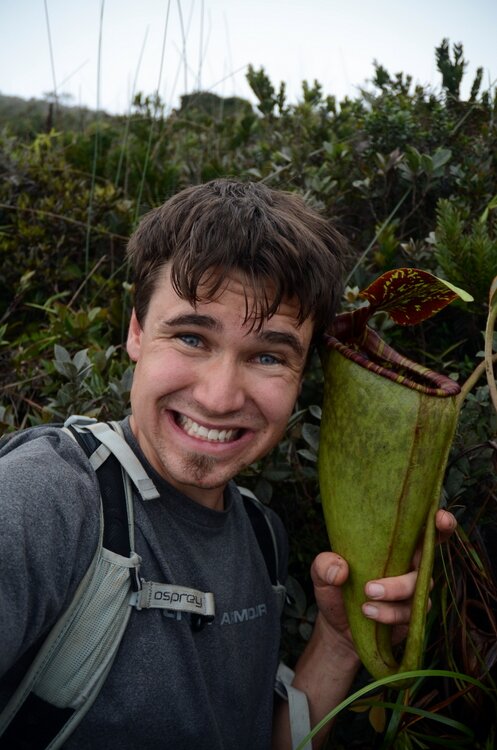 Guarantee
All plants are carefully examined prior to shipping. We guarantee safe delivery. If plant material arrives damaged or in unsatisfactory condition for any reason, and if it is reported to us within 7 days of receipt, it will be replaced. In some cases we will ask for a photo or that damaged material be returned to us. In case of returns, shipping charges are not refundable. NOTE: A torn leaf is not considered damaged, as product may shift in transit which is beyond our control. We guarantee our product to be of the highest quality. We will only replace an item one time and we reserve the right to substitute on replacements if we are out of the original.

What You Will Receive
We ship most of our plants unless otherwise noted in bare-root wrapped in moss/soil or potted in 2 1/2", 3 1/2" or 5 1/2" inch pots. Please note the photos are for display purposes only and not the actual plant you will receive. The size of our plants depend on the variety but most are between 4 to 6 inches.

If I don't want to use the website, how else can I order?
In addition to ordering on our website, you can call 1-530-hamata-1 (1-530-426-2821).

How are the Plants Shipped?
Orders are shipped by U.S. Postal Service Priority Mail or Express Mail.

Do You Ship All Year?
Yes, weather-permitting. We closely tracks the weather and ships only when there is a long enough period of time with mild enough weather. Although temperatures in your region may be warm enough to receive plants, local temperatures may not allow us to successfully ship orders containing live plants each day. When need we add a free 72 hour heat pack to your order.
Do You Ship Plants Outside the USA.
No not at this time, it is something we are looking into.